Philosophy of Science Association
Sent Date: 02/21/21



Contents
Caucus Announcements: Nominations and Prize Symposium

Feature: Science Visions 2020 Turnover

Highlighted Philosop-Her of Science: Elisabeth Lloyd

What We Wish We'd Known: On Meeting Students Where They're At: Thinking Through Designing A New Course
Caucus Announcements
As a reminder, nominations are now open for the 2020 Philosophy of Science Association's Women's Caucus Prize.The Prize is awarded biennially for the best book, article, or chapter published in English in the area of feminist philosophy of science within the five years prior to each PSA meeting. The winner will receive a cash award of $500, which will be presented at the November 2020 PSA meeting in Baltimore, Maryland. The deadline for nominations is June 1, 2020. To be considered, works must have been published between May 1, 2015 and May 1, 2020. Articles posted electronically on journal websites in final (accepted) form prior to July 1, 2020 are eligible for consideration. Self-nominations are allowed but are limited to one per person. One may nominate more than one paper by someone else. To make a nomination, please provide information about the article, book or chapter you are nominating by clicking on the link.

The PSA Women's Caucus is delighted to announce the third Women's Caucus Prize Symposium, "Conceptual and Methodological Challenges in Algorithmic Fairness," which will take place at the PSA2020 in Baltimore, MD. This symposium will be held directly before or after the PSA Women's Caucus business meeting/lunch on Saturday, November 21, allowing PSA Women's Caucus membership to attend en masse. We hope you'll be able to join us as we celebrate outstanding philosophy of science done with an eye to inclusivity. The 2020 PSA Women's Caucus Prize Symposium, organized by Sina Fazelpour and Daniel Malinsky, was selected from a very competitive pool of applicants for its exceptional quality and relevance to our membership. "Conceptual and Methodological Challenges in Algorithmic Fairness" addresses the broad question of how predictive models trained on imperfect data may amplify disparities, inequalities, and biases. The emerging field of algorithmic fairness aims to orient algorithm design towards respecting ideals of fairness and justice. This multidisciplinary symposium will bridge the technical literature on algorithmic fairness with philosophy of science by introducing philosophers of science to some of the main challenges faced by applied researchers and bringing to bear philosophical analysis on some of the contested ingredients of fair machine learning proposals. Participants come from backgrounds in philosophy, computer science, sociology, law, and the tech industry.

Co-chairs of the PSA Women's Caucus, Anya and Sarah, would like to thank the members of the Women's Caucus Prize Symposium Committee for all of their hard work and effort!

Lakatos Award 2021. Nominations are invited for the 2021 Lakatos Award, with a strict deadline of Tuesday 1 September 2020. The 2021 award will be for a monograph in the philosophy of science broadly construed, either single authored or co-authored, published in English with an imprint from 2015 to 2020, inclusive. Anthologies and edited collections are not eligible. Any person of recognised standing within the philosophy of science or an allied field may nominate a book. Nominations must include a statement explaining the nominator's reasons for regarding the book prizeworthy. Self-nominations are not allowed. Please address nominations, or any requests for further information, to the Award Administrator, Tom Hinrichsen, at t.a.hinrichsen@lse.ac.uk.
Feature: Science Visions 2020 Turnover

Although the present global pandemic is bringing much larger and more universal changes in our everyday habits, responsibilities, and identities, the staff of Science Visions wanted to take some time to acknowledge recent changes on our editorial board. In this issue's feature, two outgoing editors reflect on their time with Science Visions, and two incoming editors introduce themselves to readers.

Julia Bursten, Editor 2015–2020

Roberta Millstein and I began Science Visions in early 2015. Science Visions was born in response to a call from PSA Women's Caucus membership to create a forum where Caucus members could communicate between PSA meetings, and in order to provide a venue for our then-new quarterly Highlighted Philosop-Her of Science profiles. It's been gratifying to see our devoted readership expand, but we're grateful for the casual reader, as well. And even you who sometimes delete the messages unread… hopefully receiving e-mail newsletters in your inbox has been a reminder that you are not alone as a woman philosopher of science. Other people like you are out there, deleting the e-mails, too!

I am always tickled by the replies I receive, and I hope you'll continue to share your thoughts with Haomiao and the incoming team. I was glad to be able to pass on kind notes to our writers, who volunteered their services over the years. Our staff duties have shifted over time and solidified into a hard-working team of section editors, but our early editorial staff included a larger collection of "staff writers" who buoyed Science Visions through its early years. Without them, this newsletter would never have gotten off the ground, so I'd like to extend one more round of thanks to Gillian Barker, Lynn Chiu, Haixin Dang, Alison Fernandes, Carrie Figdor, Soazig LeBihan, Samantha Noll, Kamili Posey, Miriam Solomon, and Susan Sterrett.

Science Visions began as a blog housed on Tumblr, which was, it turns out, a terrible venue for the sort of engagement that we wanted to encourage. In the past biennium, we transitioned to the present newsletter format, with back issues archived on the Women's Caucus website. I believe this suits the needs of our readership and the mission of Science Visions much more aptly. As we all adapt to new norms of online communication and new needs for connection, as well as to the broader changing needs and missions of the PSA Women's Caucus, I hope and expect that the future staff will continue to be open and creative in adapting Science Visions, as well.

Handing off editorial control of Science Visions marks the end of my formal involvement with the PSA Women's Caucus, so it is no surprise that I am feeling bittersweet about the transition. I have gotten to know so many of you through this venue, and it is no exaggeration to say that you have shaped how I think about the kind of philosophy I want to do and the kind of philosopher I want to be. May we meet again soon!

Cailin O'Connor, Former Highlighted Philosop-Her (HPH) Manager

For the last several years, I've been editing the Highlighted PhilosopHer of Science feature for the PSA Women's Caucus. It has been a great opportunity to learn about the fantastic careers and lives of our members. For me, it was especially eye-opening to see how diverse our membership is. I profiled philosophers from different countries, different backgrounds, different racial and ethnic identities, working on different problems, using different methodologies. Some of the work I encountered looked much like my own, while other researchers were taking wildly different approaches to the big problems.

This, of course, is one of the aims of the feature. In highlighting women in our profession, it resists attempts to token us. It shows how no single one of us is a representative of the "women's view", because our views are as diverse as we are. I look forward to continuing to read this feature, to see more about the fantastic, unique people making up the Women's Caucus.
Haomiao Yu, New Editor

My research centers on the a priori and its application in philosophy of language and philosophy of science. I defended my MA thesis on contingent a priori knowledge at Beijing Normal University in 2018. Now I'm pursuing a PhD degree in Philosophy at the Univerisity of Guelph. My PhD project is on the application of contingent a priori knowledge to natural selection. Besides that, I'm also interested in the epistemological and ethical issues raised by new technology such as AI, Internet filters.

Happy to join the Science Visions team!
María Ferreira Ruiz, New Highlighted Philosop-Her (HPH) Manager

I completed my PhD in 2019 at the University of Buenos Aires and I'm currently a postdoc at the University of Geneva. My research focuses on metaphysical issues in the biological sciences, such as causation and natural kinds. Later this year I will join the University of Bielefeld to work on biological dispositions.

I am thrilled to be the new editor of the Highlighter PhilosopHer of Science feature. This is a wonderful opportunity to learn more about diverse female scholars in our field and contribute to community building.
Highlighted Philosop-Her of Science

We are currently looking for nominees for HPH! All nominations are welcome, but we especially encourage nominations that promote diversity and early career scholars. To nominate, please contact Maria at <mariaferreiraruiz@gmail.com> or use the nomination form.
Elisabeth Lloyd is currently a Distinguished Professor at Indiana University. She has a long arc of contributions in the field of philosophy of science, particularly in philosophy of biology and philosophy of climate science. She has also actively served the academic community in various capacities, from societies' governing boards to editorial work. She has published over 80 articles and authored, co-authored and edited several books. Her book The Structure and Confirmation of Evolutionary Theory was finalist for the Lakatos award, while The Case of the Female Orgasm: Bias in the Science of Evolution received the PSA Women's Caucus Prize.
After her undergrad studies at the University of Colorado combining natural and political science, she completed her PhD in philosophy at Princeton. As a graduate student, Elisabeth also worked in R. Lewontin's lab at Harvard University, where she explored issues in evolutionary biology by closely examining practices in the lab. She has contributed extensively on the issues of the units and levels of selection, adaptation, and the structure and confirmation of evolutionary theory – some of the most iconic topics in the field of philosophy of biology.

She has also investigated broader topics in philosophy of science, such as models, confirmation, and induction. She was one of the primary developers of the semantic approach to scientific theories, especially as it applies to biology. Perhaps most importantly, Elisabeth developed a philosophical methodology, the logic of research questions, that has been applied in a wide variety of contexts by other scholars.

Elisabeth is well-known within and beyond the academic community for her work on female sexuality, which articulates scientific and philosophical analyses of the topic. Among other things, this work poses serious challenges to adaptive theories of the female orgasm and highlights biases in existing research. The profound impact of this work has led Elisabeth to multiple media appearances. In addition, she is concerned with crucial problems in climate science, in particular, the confirmation of models of climate change and the attribution of climate change impact to extreme weather events. Her work on climate change has received considerable attention and led to noteworthy practical applications.

Elisabeth excels in collaborative work. She regularly works with other philosophers as well as with scientists from diverse disciplines. Indeed, her work is published in journals of various fields, engaging and targeting both philosophical and scientific audiences. At the moment, she is working on multiple projects, in book and article formats, that span a data-centric approach to climate science, values and feminist philosophy of science, adaptation, and the holobiont. She aims for the kind of philosophy that uncovers simple solutions to long-standing problems, those which make one wonder "how come no one thought this before?"
What We Wish We'd Known

What We With We'd Known is a short opinion column that features advice from Women's Caucus members about a particular aspect of surviving academic life. In this column, Lauren Freeman, Professor of Philosophy at the University of Louisville and affiliated faculty member in Women's and Gender Studies, shares her wisdom concerning designing new courses in the face of new challenges. To suggest future topics or volunteer as a writer for a future column, contact Kino Zhao at yutingz3@uci.edu.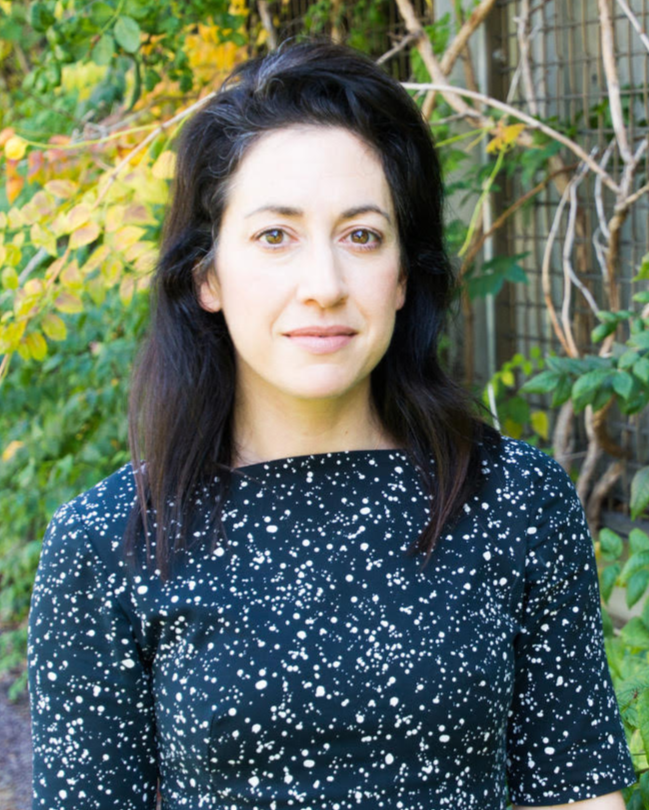 On Meeting Students Where They're At: Thinking Through Designing A New Course
Lauren Freeman
In March 2020, Kino Zhao approached me and asked if I'd be willing to share my thoughts on best practices for creating new courses, and in particular, some common mistakes that we tend to make. Flattered, I happily agreed, not yet fully understanding the cataclysmic changes that higher education was going through, and would continue to undergo in the following weeks and months. As I'm writing this short article, we are nearing the end of the fifth week of mandatory on-line teaching for all classes amidst the COVID-19 pandemic and I'm finding it difficult to separate my general thoughts about course design from my thoughts about course design in the current crisis.
Not knowing what the fall will hold for us, and beginning to think that our days of in-the-flesh teaching might be further off than any of us would like, I'd like to reflect upon course design both in general and under non-ideal circumstances and some of the things that have worked for me.

I think the most important question to consider when designing a new course is who the particular students in that course will be: what is their general demographic (if there is such a thing; usually there is), what are their overall strengths (assuming we can generalize), what are their academic backgrounds (at least for the most part), and how can the course best meet their needs and play to their strengths.

Nine years ago, in one of my first jobs, I was required to teach a class called "Philosophy of Leisure." Admittedly, when I saw that I'd be teaching a class with such a title, I had no idea what it even meant. Graciously, the person who'd taught the class before me (who was leaving the department) agreed to talk with me about their experiences teaching the course. Unfortunately, all I learned in that conversation was that it was the worst course they'd ever taught, that the students were terrible and incapable of doing philosophy, and that it was a complete disaster from beginning to end.

As I tried to learn more about this course, I found out that although it was housed in the philosophy department, it was a class that few, if any, philosophy students ever took. Rather, it was an 80-student class that was required for students majoring in Recreational Studies and Physical Therapy. Once I learned this, and looked over my predecessor's syllabus – where, on any given day, students were required to read upwards of thirty pages of Plato, Aristotle, Mill, or Marx – it became very clear to me why the course was disastrous.

Although the syllabus my predecessor had prepared could indeed teach hypothetical philosophy students about the nature and value of leisure, it made the fundamental error of ignoring the reasons, motivations, backgrounds, and aspirations of the students who would actually be taking the course. The way the course was designed did not take into consideration that the students who would be taking the class had never taken a philosophy class before, if they even knew what philosophy was, and likely would never take another philosophy class again. The philosophy of leisure course that my predecessor had designed did not allow or enable the students to use their own academic and personal backgrounds and experiences to engage with the material in any meaningful way, or in any way at all.
In that conversation with my predecessor, they told me that these students were "not smart" and "could not do philosophy."

Were they ever wrong.

I taught Philosophy of Leisure for two years and I can say, with great confidence, that it was the most gratifying teaching experience of my career. Not only were the students brilliant and so excited about and by philosophy – since it was indeed unlike anything they'd ever done before – but they were so unselfconsciously philosophical. It was a treat to engage with them and to see, through introducing them to philosophy, the myriad ways in which they were capable of deeply philosophical insights and conversations, and the sheer joy and astonishment they experienced when I pointed out to them what they were doing.

The reason why the two iterations of the course that I taught were such successes was that they did not try to do too much, they met students where they were at, they played to the strengths of students, and invited them into philosophy. Most of the students in the class were first generation university students, many were mature students (some older than I was), who were enrolled in programs that would give them the skills to be park rangers, directors of recreation centers, or physical therapists.

For obvious reasons, to start out by having them read 30+ pages of Aristotle, was not successful. But instead, to start from their own experiences and basic thought experiments to get them to think about what philosophy is; to begin by talking about what philosophy is, why we do philosophy, how to do philosophy, and how philosophy can be useful to us in our everyday lives was an incredibly beneficial discussion; and to provide them with a context to approach the texts we would be reading helped them with the grounding they needed to then read philosophy with success.

Instead of starting with thirty pages of Aristotle, we started with three. And we read them carefully, together, breaking down and parsing every line. Instead of two chapters of Bentham or Mill for a single day, I'd ask them to read five pages and to just focus on one particular argument. I'd introduce them to the parts of arguments and how they work. In time, they were not only able to rigorously critique the texts, but also to develop impressive arguments of their own.

But something else that really worked – and that I do in all of my philosophy classes – was that I also included non-philosophy texts alongside more traditional philosophers: for example, parts of Barbara Ehrenrich's book, Nickled and Dimed, to talk about labor and exploitation and David Foster Wallace's hilariously funny (yet dark and grim) essay, "Shipping Out," to talk about the underbelly of the leisure industry. This was almost ten years ago when it was far less common to include non-traditional sources in philosophy classes (and I know that many people are still opposed to doing so), but for introductory philosophy classes (and I would argue, for many upper- level classes as well), podcasts, Ted talks, blog posts, comics, and other non-traditional sources can be invaluable as a vehicle for philosophical discussions. Importantly, they can invite students who are unfamiliar with philosophy into the discipline and demonstrate to them that they are capable of philosophical insights and of developing critical positions on topics.

My point is that when designing new classes, we need to meet students where they're at and to create an environment where they want to be, where they feel comfortable and able to test out new ideas and to offer their insights.

So how is this relevant now, in a pandemic, teaching amidst so much anxiety, fear, and uncertainty? When, six weeks ago, we were asked, in a pinch, to switch our courses from in- person to on-line, I came back to the same principles that guide my design of new courses, since essentially, these are new courses we're being asked to teach. Who is my audience, what are their background experiences, what is the particular context of this class?

At my large, state institution, most of my students are first generation university students, most of them work fulltime (many work overnight shifts at UPS), many of them have children or other caregiving responsibilities, and so "merely" switching our classes to an on-line format was not a question of "just doing the same but on-line." It could not be assumed that they'd still be free during the times at which our classes meet (so synchronous classes were out of the question), nor could it be assumed that they'd have the time or energies to engage in the material to the extent they did even a week earlier.

In a very short time, switching to online courses required fundamentally rethinking and tweaking my courses, cutting a lot of material that would not be conducive to an on-line format, and radically reconsidering my expectations and many of my assignments.

Contrary to one of the dominant narratives we've seen of how life is unfolding for students amidst this pandemic, most of my students are not sitting around bored with ample time on their hands, excited to read theory about the meaning of life, etc. Rather, they are trying to figure out how to pay their bills now that their places of employment have shut down; where they will live now that their dorms have closed; and for some of them, where they will get their next meal, or how they will support and care for laid off, immunocompromised parents. Reading tens of pages of philosophy per week and writing essays is simply not an option for them. Some of them don't even have computers at home, let alone reliable internet access. But this does not mean that they cannot still get something out of the last month and a half of classes, even if it means only reading five or ten pages per class, as opposed to 30, and listening, on their own schedule, to several audio-recorded micro-lectures instead of three hours of class.

Meeting students where they're at, with compassion and kindness, can be the difference between giving students the tools to thrive, or shutting the door on them before they've even entered the room.